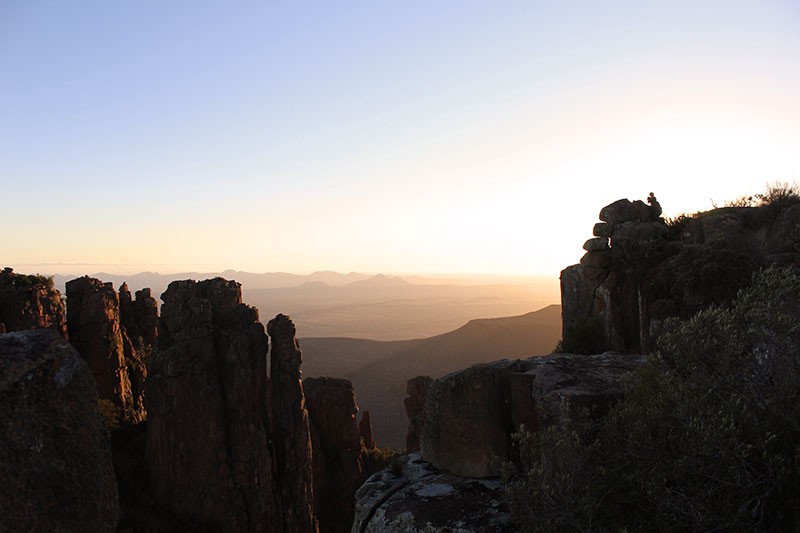 By Janet Middleton
Graaff Reinet, the historical little town in the Eastern Cape, is the most delightful combination of small-town wonderful and golden countryside. Take a meander through the mists of time with me; to a time where streets were wide to accommodate ox-wagons, game wandered freely across the plains of Camdeboo and farmers, well, they farmed much as they do today. The town itself has grown and modernised while still retaining its old-world charm as South Africa's fourth oldest. The architecture, including the unmissable NG Kerk, is incredible and visitors can choose from a selection of traditional venues including the restored Camdeboo Cottages and Drostdy Hotel for a few nights' comfortable rest. Just strolling through the jacaranda-lined streets instils a sense of small-town bliss for a road-weary traveller. Take a walking tour of Graaff Reinet if you don't want to miss a single treasure. Once you've freshened up, you'll want to get out and explore the countryside, which includes superb scenery, private game reserves and the beloved Valley of Desolation at the Camdeboo National Park. Be prepared for golden and grey vistas, South African wildlife and some of the best sunsets in the Southern Hemisphere! Don't discount this special Karoo town when planning your trip across South Africa. Here are five of my favourite moments from just 36 hours of exploring…
GAME DRIVE AT MOUNT CAMDEBOO
Just a short drive from town, you'll find yourself in another world: the world of Mount Cambedoo. A place where cheetah laze under a tree, the vulnerable mountain zebra gallops the golden plains and the rare white rhino may just be closer than you think!
Our game drive started with a sighting of six rhino, moms and calves, just grazing within sight of the lodge – they were covered in red dust from a mud bath and completely unperturbed the vehicles. Our lucky streak continued as we were fortunate to spot a cheetah napping away after a hearty meal, and mountain zebra, before finally settling on a mountaintop to enjoy a golden sunset and a sundowner before heading back to the lodge for our al fresco dinner. That's when things really got unforgettable. A Karoo traffic jam!
Our guide spotted some fresh rhino droppings on the mountainside road and, as we turned a corner, in the fading dusk, there he was: a beautiful, real-life rhino – just metres in front of us. What a moment. Hardly bothered, although incredibly insistent that he take his time, we did what anyone would do in a traffic jam: creep along and wait; although, the sights and sounds where a darn sight better than any gridlock I've ever seen! We spent 45 minutes following this rare and endangered creature, the hardest part was putting my camera away and staying in the moment, because you know that something like this will never happen again and you don't want to witness it from behind a lens.
MOUNT CAMDEBOO is a private game reserve outside Graaff Reinet that focuses on the conservation of vulnerable and endangered species such as the white rhino, cheetah and mountain zebra. In addition to game drives, guided walks and stargazing, the reserve also offers accommodation in the form of three manor houses, a secluded cottage and a safari tent camp.
FLY KAROO OVER THE VALLEY
Where to begin? A helicopter flip over the ancient Valley of Desolation will leave you feeling both dwarfed and invigorated, somewhere between being awed by nature and thrilled at a heli-trip over, what could very easily be, Jurassic Park. You could expect to see dinosaurs wandering the plains of the valley! The Valley of Desolation has formed over 100 million years and is a sheer spectacle of 120m high Dolerite cliffs and columns. Fly Karoo offers an exhilarating flip over the valley and the Camdeboo National Park with beyond-breath-taking views. This short trip provides a birds-eye view of Graaff Reinet, the Ngweba Dam, the Valley of Desolation and the Camdeboo National Park. This is a must-do for first-time and returning visitors to the Karoo Heartland.
FLY KAROO is Graaff Reinet's first helicopter charter service, offering scenic flights which enable visitors to Graaff Reinet to visit popular sites in the surrounding areas. Charters are also offered to nearby locations such as game lodges and Port Elizabeth airport.
DINNER ON THE MOUNT
The sun sets at its own special pace in the Karoo, sliding gently towards the distant mountains and turning the light that special golden colour that feels unique to the Karoo Heartland. It's magical and romantic. Couple this lovely light and fresh summer air with an al-fresco dinner at Mount Camdeboo and you have a recipe for an unforgettable Karoo experience. Following an afternoon spent game viewing and realising how close the wildlife is to your cosy dinner table, makes this doubly special. And here's a not-to-well-kept secret: the Karoo folk really know how to cook! The talented chefs at Mount Camdeboo have taken inspiration from South African cuisine and recipes that date back to the early Cape settlers, reinventing old favourites with a light, contemporary touch.
STAYING IN GRAAFF REINET
An overnight stay (or three) in Graaff Reinet will reinforce the feeling of having stepped back to a time when porches were deep, floors were wooden, and hospitality was as warm as the wide streets in mid-summer. Graaff Reinet has a number of converted and restored guesthouses and hotels complete with superb cuisine, crisp linen and first-class service. As there is so much to see and explore in, and around, Graaff Reinet, settle in for a few relaxing days, unpack your bags and allow the folk of the Karoo Heartland to take good care of you.  Next time, I'll spend more time explore the museums and architecture.
SUNSET AT THE VALLEY
I'll never tire of sunsets at the Valley of Desolation. Once you've seen the valley from the air, you can truly appreciate how vast and magnificent it is. However, sitting at a picnic bench, sundowner in hand and watching the rock formations change from fiery orange to black silhouettes against a navy sky is one of the surest ways to experience everything that is special and unique about the Karoo. In that dusty golden light, you can see forever.