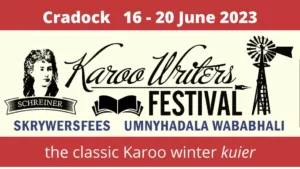 The annual Schreiner Festival takes place in June in Cradock, where Olive Schreiner spent much of her childhood.
Regarded by many as the first South African literary superstar, Olive Schreiner's most famous work is The Story of An African Farm. Her home where she lived as a child is now curated as The Schreiner Museum.
What a perfect excuse to indulge in warm Karoo hospitality; feast on farm food, mingle with like-minded spirits and marvel at the star-studded Karoo night sky!
The formal program is enriched by unplanned synergy and happy surprises during informal fireside chats, open microphone sessions and chance encounters with remarkable people.
Most events take place at Victoria Manor and Schreiner House, which is an easy walk from the legendary Die Tuishuise & Victoria Manor, the home-base for the Festival guests.
More information: https://karoowritersfestival.weebly.com
Start Date: 16 June 2023
End Date: 20 June 2023
INFO & BOOKING: reservations@tuishuise.co.za